Here's a bit of Drone News. Recently, the town of New Milford, CT began a project to install a new athletic field and sports complex for their high school. As with most things public, the project was advertised with social media and the town engineer, head of the project Dan Stanton reached out to me to help document the progress of the project with my drone.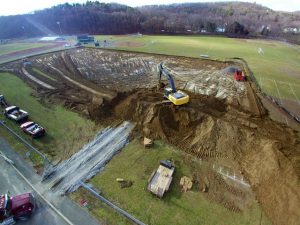 Having a bird's eye view he thought would be new and exciting. So, I took my Blade Chroma 4K camera drone down to the high school when ever the weather could cooperate so I could take photos for the project's facebook page.
This was a great opportunity to both get involved with the local community but also to get the word out that the use of drones locally was a good thing. Over the course of the project I took many photos and Dan posted them. This teamwork got a lot of attention and was a great success for the town and the committee in charge of the huge project.
Today, the New Milford High School's athletic field is one of the best in the state and it has drawn a lot of positive attention to the town, the school and the local community.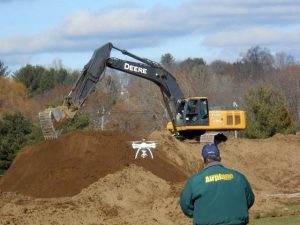 Drone pilots looking to get involved in larger projects should check with their local officials, attend meetings and see what opportunities are available to show drones in a favorable light. Remember also that FAA registration as well as basic liability insurance is required.
When flying at a construction site, always have a safety spotter, as well as an official present so you can prove you have permission to be on the property. Having written permission is also a good idea for those times when you are there unsupervised. You should also maintain a safe distance away from any structures, and equipment, especially when the equipment is in use.
For most overhead photos, an altitude of about 100 to 200 hundred feet is more than enough to capture large areas in photographs. Remember to always stay well below the FAA maximum altitude of 400 feet.
And always conduct yourself with a professional attitude and be very safety minded. Even if you are asked to do something that you view as risky or above your flying ability, don't be afraid to say no.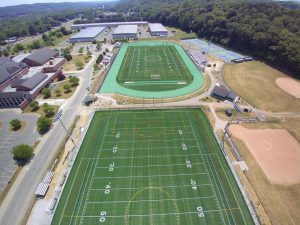 Always be friendly and know you are representing yourself and in general the entire drone community when you fly your camera drone in public. Working with your community to accomplish something important is a great way to elevate yourself and to draw positive attention. Once your photos are shared, don't be surprised if others ask for your services. Just remember to stay legal with all federal requirements. Have fun!