If you've been wanting to fly something new and different, a fixed-wing FPV platform might be just the ticket. Aircraft like this are very stable and can fly for a surprisingly long time.
The Opterra is constructed completely out of carbon-reinforced Z-Foam that has been hollow-molded to keep weight at a minimum. I reviewed the BNF (bind-and-fly) version, which comes an AS3X receiver with SAFE Select technology that you can bind to your DSMX/DSM2-compatible 5-channel radio; it's also available PNP (plug-and-play), which would require a receiver and radio. Both versions need a 3-cell 2200–3200mAh LiPo to get airborne. The Opterra wing comes with an optional camera nose with up to two forward-facing stations for FPV or HD cameras as well as a downward-looking camera bay in the belly, designed for a GoPro-style camera.
Drone pilots and those transitioning from their first fixed-wing trainers will appreciate the SAFE Select flight stability, which allows them to set up the plane to suit their flight skills, and more advanced pilots will appreciate the Opterra's ability to capture aerial video and still shots. Also, if you are part of the growing group of FPV pilots, the Opterra can be outfitted with an FPV system for any number of activities. This plane really has something for everyone.
FIXED WING FPV
FPV flying wings are getting more popular, and they are flying better every day. With the introduction of technology like AS3X, you can easily move into the world of fixed-wing FPV. The key is to get some equipment and give it a shot. You'll be surprised how much fun it really is. When comparing drones to a fixed-wing FPV platform, the biggest difference is that there's no hovering, and fixed-wing aircraft fly more smoothly and take more space to maneuver. Being able to cover much larger areas lets you take photos and video that's very different from those shot from a hovering drone. They widen your horizons and your perspective. As with anything new, seek the help of experienced fixed-wing pilots to help you transition to the new experience. So get out there and give it a try. I think you'll enjoy it.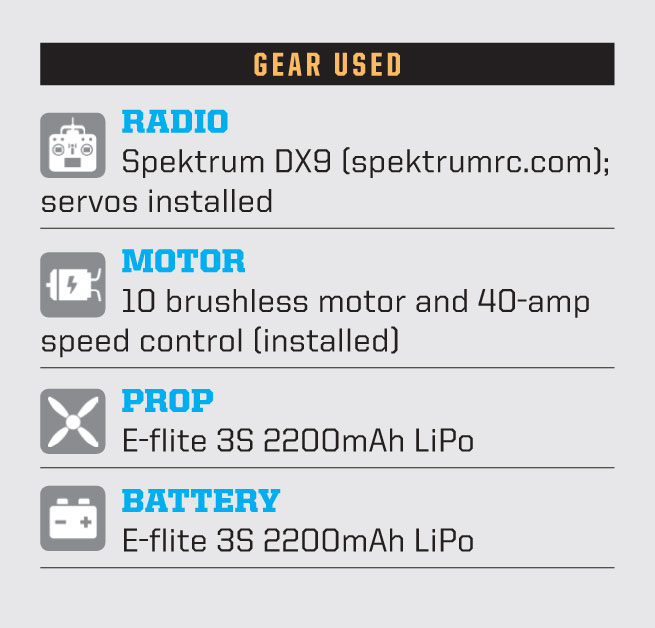 UNIQUE FEATURES
There are only two control surfaces on the Opterra: elevons that provide both elevator control and aileron control. Both of the surfaces arrive prehinged and ready for flight. The hinges are pressed into the Z-Foam and will provide years of use. In addition to the carbon-fiber reinforcements and the Z-Foam parts, there are a host of ABS plastic fittings and pieces. All come 100 percent ready to be assembled and flown with no additional work needed. Now let's talk about my favorite part: All the decals are preapplied for a great-looking design.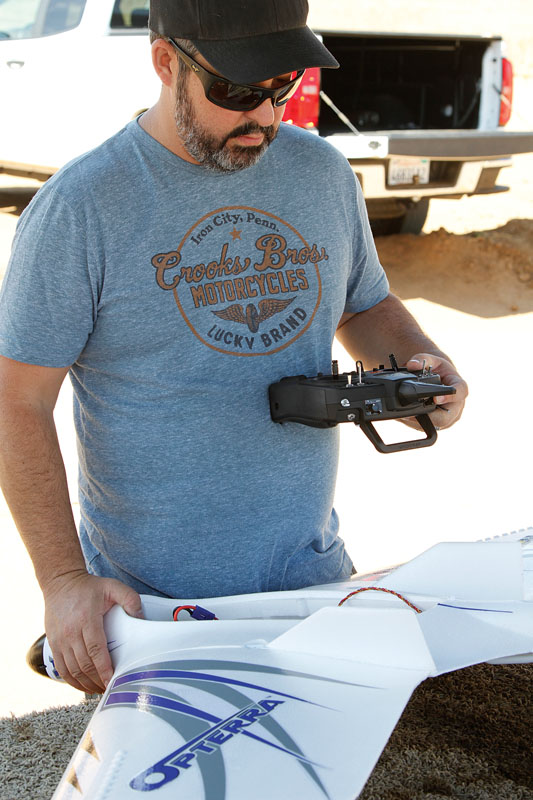 You literally don't need a single tool to assemble this plane and fly it. The only fasteners you will use are the plastic cam locks for the wings and winglets. Everything else comes preinstalled and ready to go.
I made no modifications to the Opterra when I assembled it. As a matter of fact, the end of the box boasts a "simple as 1, 2, 3" statement, so I decided to put it to the test. I charged my E-flite 2200mAh LiPo battery the night before and did absolutely nothing to the Opterra prior to arriving at the field. I didn't even open the box. On the morning of the photo shoot, I cut the tape from the box and dug in. West Coast senior editor John Reid was not amused and went off to fly his drone. By the time he had flown one battery, I had the Opterra assembled, bound, and ready to fly—nice work, E-flite!
IN THE AIR
The Opterra is what I like to call a "chuck and skid" model. This means that you have to throw it for takeoff and skid it in on landing, so a grass field is optimal. I flew it off our dirt runway, however, with no problem, and the preinstalled skids did a great job of protecting the bottom of the plane.
GENERAL FLIGHT PERFORMANCE
Stability: On my first few flights, I was flying fast and executing pylon-style turns with no stall present. At slow speeds, the Opterra handles well, and I never felt as if it were lacking control. The integrated vortex generators really do their job.
Tracking: Being a blended-wing model with zero tail moment, the Opterra is a very clean design that produces very little drag. The set of vertical fins near the fuse and the winglets do a great job of minimizing yaw drift, and this is probably one of the best flying-wing designs I have ever flown. The Opterra goes where you want it and requires little input, especially with the AS3X engaged.
Aerobatics: I performed some loops, rolls, vertical figure-8s, and inverted flight, and all were fairly effortless.
Glide and stall performance: I must say that I am not even sure the Opterra will stall. Even with the motor off and flying at a walking pace, the Opterra just keeps floating along with what is perceived as zero sink. We have a small hill on final approach at my field, and after cutting the motor on the downwind leg and staying less than 5 feet off the hill, the Opterra still glided the entire length of the 800-foot runway, only for me to power up and go around. Its glide and stall performance are exceptional.
PILOT DEBRIEFING
What a fun plane to fly. It's large and easy to see, and it's stable and controlled at all speeds—it's just plain fun. One thing I would like to mention is the launch of the Opterra: I don't like launching a pusher plane with the motor running, and with the Opterra, it really isn't necessary. With SAFE mode engaged, I gave the Opterra a firm toss and applied the power after it left my hand, and it displayed very little sink and I had no fear of it hitting the ground.