Hitec has released a new airframe with an aggressive look and some cool features. When you receive yours, you'll be happy to see that there is little to do to get it flying. Simply add your radio and receiver, set up the included flight controller, and install the included propellers. And yes, a charged battery helps!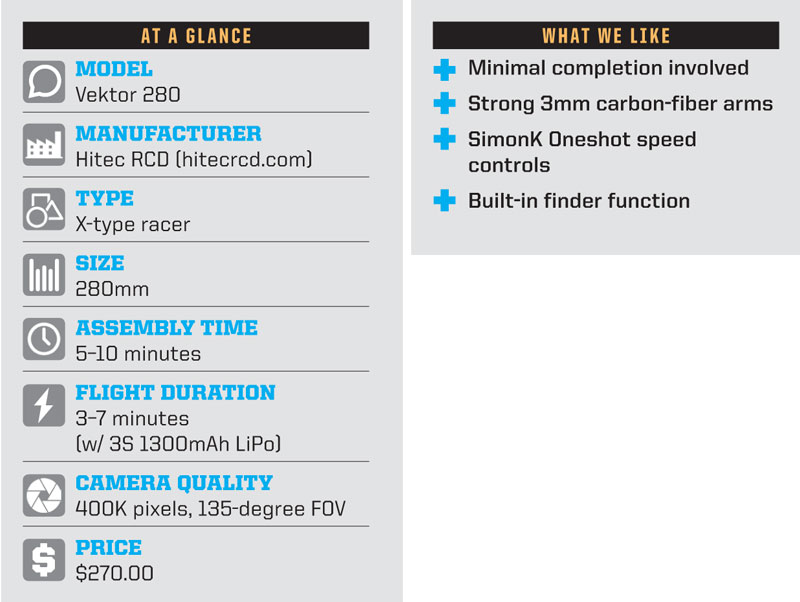 Highlights
Clean and solid-looking 3mm carbon-fiber arms are premounted to the main frame with hex-head fasteners. Underneath, foam-rubber pads keep the quad's body off of the ground. Preinstalled on top of the arms are the 2204 motors with wire-loom wrapped leads, which feed into the main frame. There are decals on the motors that illustrate motor direction and also included are 10mm prop nuts, which are color coded according to location. Four 6×3 propellers complete the power package. The Vektor 280 utilizes a circuit board system, and it has all of the required power pads and speed controls built into it. Rather than the typical stack of components, you get a slim, compact setup with the aforementioned and other built-ins, such as programmable LED lighting and DSM and SBus support. If you like doing the PWM thing (one wire per channel), you can because there are wire harnesses for either option. An XT-60 plug is presoldered to the board, and a hook-and-loop battery strap is provided. The flight controller is the CC3D Atom and was configured through LibrePilot. Formerly known as OpenPilot, LibrePilot is a free, open-source firmware available online.
Aerial Recap
An addendum on Hitec's website gives you all of the needed info for the setups of both your Vektor 280 and your guidance transmitter. "Playing" around with the LibrePilot GCS (ground control station) for a few minutes led to some fairly intuitive results, and I was able to get flying in short order. For safety, I removed the props before programming. Using a 10mm socket makes quick work of prop changes. When the motors spun up for the first time, the Vektor climbed very smoothly and was easy to hold in a small location in Stability mode. Initially, while untrimmed, only minimal inputs were required to keep the machine in place. Releasing cyclic control at any time allows the self-level to kick in and right the vehicle back to a solid and flat attitude. When you're ready for unlimited control of the quadcopter, you can switch to Acro mode, which can be set up on any of your radio's switches. In Acro mode, aerobatics are much more lively, and flying at a steeper angle is possible. In fact, this is typically the preferred mode for experienced pilots because there is no "force" trying to level the quad; only the pilot's inputs are to blame!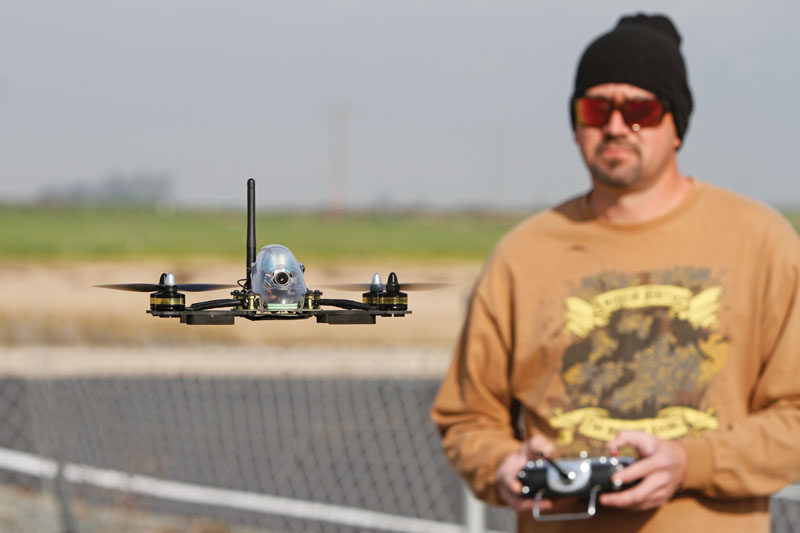 The Bottom Line
Truly almost ready to fly, the Vektor 280 is also "almost ready to FPV" with a camera preinstalled and prewired to an included 600mW video transmitter. Just add your receiver and display and you're ready to rip.