Built for FPV beginners & FPV racers, the PhoenixHD FPV Drone Kit is the most versatile drone on the market today. Explore your new world with crystal clear digital video feed and capture the soaring essence of a bird's eye view unlike ever before.

After three years of engineering, The PhoenixHD assembles literally everything you need to rock your digital world upside down! It delivers the best components, the best brand names, and the best build techniques, all packed into one stellar little kit. Fly with confidence using the most durable carbon fiber frame around; Crash tested 18 times before a single part gave way. Hand built by IPC certified technicians and tuned by Drone World's tenured FPV pilots, the PhoenixHD is the ultimate First Person Video drone.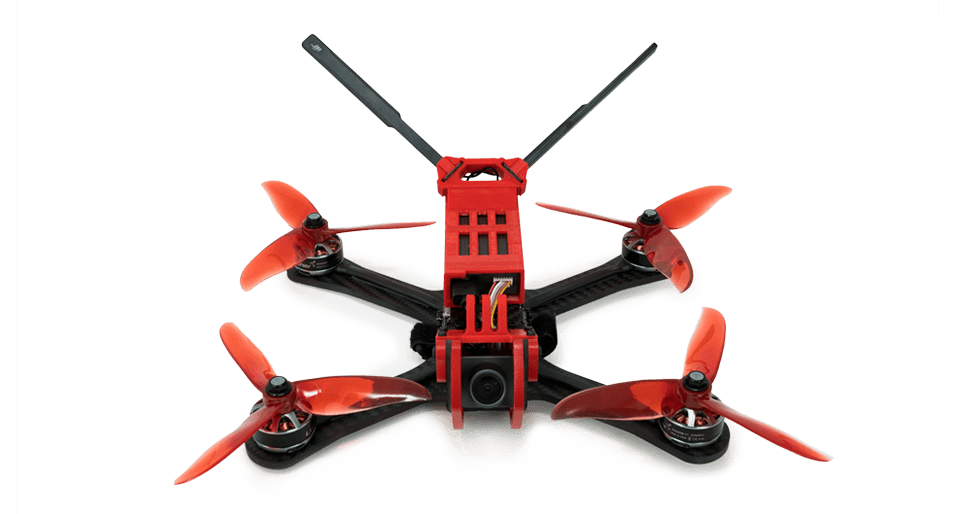 DJI Goggles Racing Edition

Experience FPV racing with smooth and clear video. The DJI Goggles RE syncs with the DJI Ocusync Air System and produces 1280 x 960 HD Video with latency as low as 50ms! This offers a more immersive and upgraded FPV experience.
DJI OCUSYNC AIR SYSTEM

Built with the same system used in the DJI Mavic Pro, the PhoenixHD is the first digital FPV drone featuring the DJI Ocusync Air System. The DJI Ocusync Air System provides a high-resolution video trasmission and 2.4 GHz/5.8 GHz dual-frequency transmission. The DJI Ocusync integrates seemlessly into the Phoenix HD to get you the best quality video feed on the market. New feature allow for two goggles to view the same drone feed.
TARANIS Q X7 TRANSMITTER

The Taranis Q X7 is the FPV communities most trusted remote. It's ultra durable design now has a new quad ball bearing gimbals for the super smooth operation. Highly upgradable, it can be used with many other drones. Perfectly fits inside the LowePro backpack like a glove.
LOWEPRO QUADGUARD X3 BACKPACK

The ultimate drone backpack! We meticulously selected this pack to store countless parts of this bundle in ruggedly secure and well thought out place. This pack keeps the kit in neutral position for hiking and protects against drops, crushes and all weather with its cover.
TATTU BATTERIES

Keep your drone supercharged with Tattu 1800 mAh Lipo battery. These batteries offer high quality and robust power for your Aircraft. Dual safety with vibration proof as well as fire proof material is used in LiPo's battery box. Comes with tons of power in a compact pack, offering a longer flight-time for your drone.

The TATTU 1800mAh 3s 75c Lipo Battery gives you the flight time and power you need for FPV, with a discharge rate of 75C, these batteries are compact but built with high quality and reliable power.

The TATTU R-Line 1800mah 4S 95C FPV Lipo Battery provides an explosive and durable flight experience. This battery contributes to the reaching 400 feet in 3.4!
2 THOR SUPERCHARGING STATIONS

The Drone World produced THOR product line of SuperCharging Stations has become our most popular battery charging system for 3 years straight. Quality you can trust, with faster and more simple charging, plus ultra lightweight for portability. Uses simple Plug n' Power features to safely charge all 4 batteries at once without having to worry about setting complex amperage, voltage or capacity limits seen on standard chargers.
LUMENIER MOTORS

Lumeniers are the best motors money can buy. Punch the throttle and your drone with hit 80 miles per hour and 400 feet in just 4.3 seconds! Power and efficiency all in one makes for a very deadly combination while the high end bearings make the motors purr like a kitten. Precision machined CNC parts provide flawless and reliable power and with Lumenier's innovative approach to engineering there is no longer a need for set-screws that can loosen over time.
RACESTAR ANNIVERSARY EDITION ESCS

This 4-in-1 ESC (Electronic Speed Controller) keeps your quad looking clean and your motors running mean! Smoother acceleration and faster response. No messy wires, less weight and has a 35amp rating that can handle that beastly 95C Tattu R-Line battery like a champ.
BATTERY VOLTAGE CHECKER LCD SCREEN

The voltage check is a simple, fast and brilliant way to check your battery's voltage in seconds! Via the big easier to read LCD screen, you will know how much life is left in your pack. If it reads 16.9 volts then you battery is fully charged. If it reads 14.5 volts is means that it is time to come home and land. Be sure to land by 14.3 volts to protect your battery. Ultra light weight for portability and no ultra loud beeping noises seen on other models of battery checkers.
PROPELLERS

Tap to view all three Prop sets. There is no better option than Tri-Blade Props for your fpv racing drone! Durable Fun Pros will also provide silky smooth flight for Film. Ultra Thurst Crystal Red Cyclone Props will change your flying experience forever. High quality props, composed of flexible and durable plastic both capable of easily surviving crashes and tree clips.
CARBON FIBER FRAME

Armattan Chameleon Carbon Fiber Frame and red rails around the FPV camera protect this Quad like a tank. The Chameleon's lightweight carbon fiber is reknown for its freestyle flight character and provides the most durable frame setup around. This frame has withstood 18 crashes with only the propellers and small antenna brackets needing to be replaced; No camera lens damage what so ever). What does this mean?? It means your Digi-Drone will follow you where ever you go and that means you will learn faster and explore more! With the frame's perfectly balanced power to weight ratio and low rider plate, you'll get precise control to aid you in better controlling of fast maneuvers and quick tricks. Using our exclusive one-on-one training videos, you'll be doing flips and rolls in a couple weeks or days, rather than months.
CUSTOM OCUSYNC HOUSING & BATTERY TRAY

Secures the DJI OcuSync Air Unit System to the frame and features custom dual antenna breakaways for rapid antenna repairs. The battery tray protects your Tattu batteries during hard landings and has rounded edges so your velcro strap stays tight, especially during those 80mph vertical bursts.
ASSEMBLY TOOLKIT

The Blade Tool Set contains virtually every tool needed to maintain and fine tune any racing quad. Specifically engineered by quad racers, this kit features tools such as the Motor Holder, Prop Installtion Tool, Hex Drivers, and Transportation Pouch.
GOPRO HERO SESSION (OPTIONAL UPGRADE)

Capture 4K video with the GoPro HERO5 Session. Easily connects to the included Universal Camera Mount, the GoPro upgrade is a great addition by adding liquid smooth stabilization and stunning footage to your FPV flights.