The world's leading manufacturer of commercial thermal imaging systems, FLIR, announced a major new initiative in the drone space with the announcement of SIRAS at the Commercial UAV Expo in Las Vegas. While the company had previously offered the Black Hornet – a palm-sized helicopter intended for military users, its new platform is aimed at the broader industrial and public safety market for small uncrewed aircraft systems (UAS).
"The payload incorporates our Boson thermal camera core, with a radiometric 640-by-512 pixel sensor," said Kelly Brodbeck, the company's UAS product manager. The radiometric designation means that the camera is able to return accurate and reliable temperature measurements – which will no doubt prove to be a valuable capability for industrial inspection deployments.
"The thermal sensor is paired with a 16-megapixel visible light camera in normal flight mode, which goes up to 20-megapixels in mapping mode," according to Brodbeck. "Because the native sensor has so many pixels packed into it, when we implement a digital zoom, we are able to offer 30 percent more pixels on target than any of our competitors – so our zoom images look very clear: They aren't blurry or cloudy, like you may have seen with other manufacturers."
Both cameras are mounted on a three-axis brushless gimbal to ensure stable imaging in spite of the aircraft's movement. Also, the camera gimbal can be removed and replaced without tools, allowing the platform's capabilities to be extended with additional payloads which are already under development by FLIR.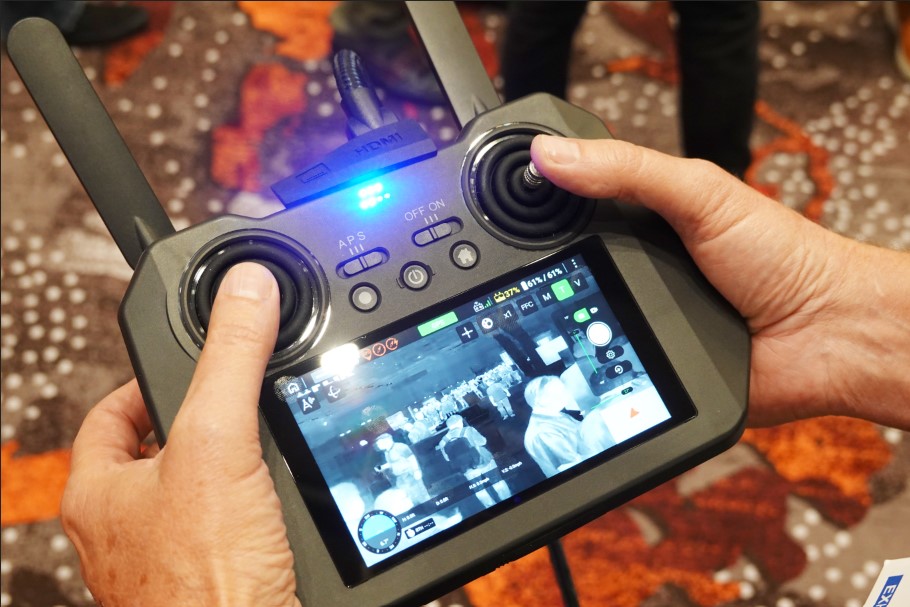 SIRAS uses a conventional, two-stick control scheme that will be familiar to any Part 107 remote pilot and the controller incorporates a video display to provide the operator both with live video and telemetry from the aircraft.
"You can get it in the air about a minute after you turn on the aircraft and the controller," explained Brodbeck, with the ability to be deployed rapidly being no doubt critical for first responders.
The aircraft includes numerous other features developed with professional and public safety users in mind. To begin with, the aircraft does not incorporate any geofencing limitations that prohibit it from operating in sensitive locations – such as near airports or critical infrastructure.
If an airplane crashes on landing and lies burning on the runway, firefighters absolutely do not need to be waiting for permission from the manufacturer's servers to get an airborne perspective on the emergency. Also, in recognition of how critical data security has become, particularly with drones from foreign manufacturers, the SIRAS does not require any type of registration or data sharing between the aircraft and FLIR.
"This platform is manufactured in Taiwan and the United States, and does not incorporate any components coming out of the People's Republic of China or any similar country," said Brodbeck.
And, because emergencies don't wait for sunny, clear weather to happen, the aircraft is IP 54 rated, meaning that it can operate in dusty environments and can continue to operate even if water is splashing against it from any direction.
Among SIRAS' most innovative features is its collision avoidance system. While virtually all comparable small UAS rely on a machine vision system – essentially visible light cameras in pairs that mimic the function of our human eyes to detect and avoid obstacles in the environment, FLIR's new drone has a forward-facing radar array capable of detecting obstacles out to 100 feet – much further than other systems and with the ability to detect smaller objects, as well.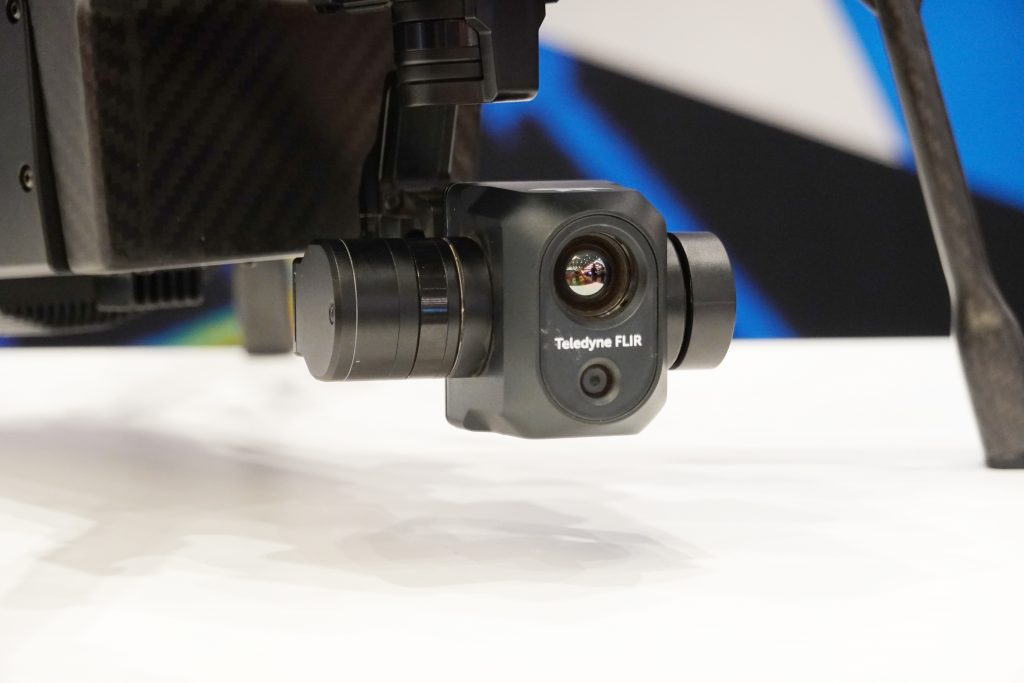 Designed to compete directly with platforms such as the DJI M300, which can cost $15,000 – or more – when equipped with a comparable sensor package, the SIRAS is available for $9,695.
TEXT & PHOTOS BY PATRICK SHERMAN