GoPro just announced its long-awaited (and long-delayed) flying camera platform: Karma. The folding drone comes in a backpack and features a removable stabilizer as well as a simple controller with a built-in display. It all costs $800 and will be available in a month. Depending on who is looking at it, it is very cool and versatile or just another folding quad.
Nick Woodman, the founder and CEO of GoPro, made a big deal out of the Karma's portability and versatility at an announcement event on Monday. "It's so much more than a drone," Woodman said
Karma is so much more than a drone. It captures amazingly smooth GoPro footage in the air, handheld, and mounted to your favorite gear. Compact and ultra portable, the Karma Drone folds to fit into its own lightweight case. The game-style controller with an integrated touch display makes Karma easy and fun to fly. The included camera stabilizer can be removed from the drone and attached to the included Karma Grip for ultra steady professional-looking handheld and gear-mounted footage. Hollywood-caliber stabilization in a backpack you can wear during almost any activity…for $799.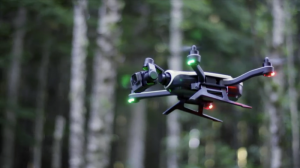 Price options are, $799 for just the Karma, $999 with a Hero 5 session and $1099 with Hero 5 Black.
Coming in the included backpack a flight controller that plainly enjoys 3DR DNA. Coming no doubt from the team that was hastily formed from ex-3DR employees. It could even be running some form of Ardupilot code on its flight controller. The included included a stabiliser stick for your GoPro of choice in a nice extra.

As for the Hero5 Black:
HERO5 Black is the most powerful and easy-to-use GoPro ever, thanks to its 4K video, voice control, one-button simplicity, touch display and waterproof design. Add video stabilisation, stereo audio, GPS and auto-uploading of your photos and videos to the cloud and you've got a ton of GoPro for $399.
HERO5 Session shares the convenient size and one button simplicity of the original HERO Session, but with massive performance gains like 4K video, 10MP photos, video stabilisation, improved low light performance and voice control. It's waterproof without a housing to 30 feet and can auto-upload your photos and videos to the cloud. HERO5 Session may be the ultimate combination of performance and small size.