"LANDSCAPE AND ARCHITECTURE"
Ottsjö by Air and Timelapse—by Marcus Möller
For 2018, the "Landscape" and "Architecture" categories, which had previously been separate, have been combined into one. The title is fairly literal on this one, so it pretty much describes the concept. But that doesn't begin to cover the evocative imagery in this tourism video for the small town of Ottsjö, Sweden. Ethereal panoramas and graceful sweeps through snow-encrusted forests make up much of the footage, but the few seconds of time-lapse shots of the Northern Lights are breathtaking. Ottsjö is in the process of remaking itself as a tourist town; Marcus Möller's video is singularly effective in making it a must-see destination.
OTTSJÖ – BY AIR AND TIMELAPSE (4K) from Marcus Möller on Vimeo.
Other Category Nominees
〉〉 777 Aviation—by Drone Dudes
〉〉 Annecy—Drone in Motion—by Yannick Cerrutti
〉〉 Perspectives—by Tarsicio Sanudo
"News and Docs"
The Big Ugly—by Máquina Voadora
The Big Ugly demonstrates the tremendous potential of drones in capturing  extraordinary and unplanned events. Unlike traditional news resources that rely on remote trucks or helicopters, a drone on the spot can be launched within moments to capture dramatic stories as they unfold—in this case, the rescue of an imperiled surfer at Praia do Norte in Nazaré, Portugal. The film opens with spectacular footage of surfer Pedro "Scooby" Vianna riding a monster wave, but he wipes out in a dangerous no-man's-land of eddies and back currents near a treacherous rock formation at the notorious beach. A jet skier attempts a rescue and is capsized by the crashing waves, leaving two men in critical danger. A second rescuer jet-skis in, and the drone overhead captures the tense moments of their rescue in a way no other technology could.

Other Category Nominees
〉〉 The Mutant Vehicle—by John O'Sullivan
〉〉 Fields of Gold—by Sarah Deener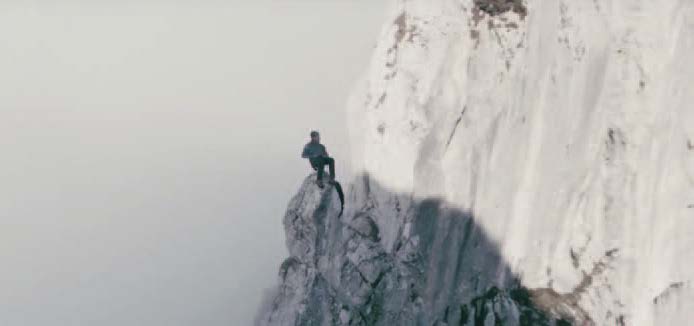 "SHOWREEL"
Showreel 2018 airV8—by Holger Hirsch
The "Showreel" category tends to be the product of filmmakers showcasing their diverse skills and creative imagination to create a marketing pitch for themselves. A well-executed showreel makes a compelling case by stringing together images and sequences of all kinds. Holger Hirsch's reel blends sequences involving traditional and extreme sports, cinematic landscapes, and overhead shots used in commercials. In many ways, it's a synopsis of the other categories from the festival all rolled into one.

SHOWREEL 2018 – AIRV8 from airV8 on Vimeo.
Other Category Nominee
〉〉 Aerial Frontiers—by Sam Short
The 2018 Jury
The judges deciding the winners in 2018 come from all corners of the media,  technology, sports, and entertainment worlds, and include several former winners. It was their task to winnow down the entries to the best films in each of the 10 festival categories. The 12 members of this year's jury are:
Phil Allocco—film director
Kelvin Beachum—left tackle, New York Jets
Philip Bloom—photographer/cinematographer;
NYC DFF winner (2015)
Joshua Butler—television director
Florian Fischer—Behind the Mask; three-time
NYC DFF winner (2015–17)
Eric Fletcher—SOC (Society of Camera
Operators)
Jason Harris—CEO , Mekanism
Paul Hoffman—CEO , Liberty Science Center
Victor Lee—UAV pilot
Krista Liney—VP, Brand Creative at History
Roberto Serrini—commercial director
Maria Stefanopoulos—producer, Good Morning
America; NYC DFF winner (2017)
"STILL PHOTOGRAPHY "
Football Island—by Brent De Bleser
The "Still Photography" category is an anomaly at NYCDFF because it is not really a film at all, but a single image that must be compelling and exhibit the photographer's technical and artistic skills without the benefit of motion or multiple subjects or angles. It may be less challenging from a piloting standpoint, but composing a photo that delivers the impact necessary to win in a category like this is by no means easy. Brent De Bleser checks all the essential boxes with his overhead shot of the football pitch ("soccer field" to us Americans!) in the village of Henningsvær in the Lofoten archipelago off the  northwest coast of Norway. The crisp, vibrant image contrasts the rigid, orderly lines of the field against the ragged coastline of the tiny island barely big enough to contain it.
Other Category Nominees
〉〉 The 24 Hour Descent—by Kyle Hulse
〉〉 The Spiral Jetty—by Josh Dustin
〉〉 God's View of Independence Day—by Jordan Nelson
〉〉 The Last of the Dome—by Jordan Nelson
"X-FACTOR"
Kingdom of the Wild—by Michael Bishop
Drones offer such unique potential to shoot spectacular wildlife footage that it's easy to make a case for it having its own festival category. As it stands, such films fall into the "X-Factor" category, and Mike Bishop's Kingdom of the Wild easily took this year's win. It catalogs many of the indigenous species in Namibia in their natural element. It  incorporates footage of the drone pacing a cheetah at a gallop and observing a herd of ibex and of water buffalo moving as one from overhead. Giraffes, hippopotami, lions, elephants, crocodiles—the list goes on. There are also cool shots of a swirling desert dust devil from right next to the funnel—how else could you get that image but with a drone?

Other Category Nominees
〉〉 The Boom—by Jordan Nelson
〉〉 Flutter—by Chris Castor
〉〉 White Jeans—by GH Ridpath and Noah Ferche