There are several types of thread-lock at the hardware store; which is best for our drones?
Answer: Thread-lock, as the name implies, keeps threaded parts from coming apart under most conditions. There are two types: mechanical and chemical. Mechanical thread-lock includes split washers, star washers, and nylon-insert nuts. Chemical thread-lock can be both anaerobic and non-anaerobic.
Anaerobic thread-lock will cure when oxygen is not present. It also has a chemical component that cures in the presence of iron-based raw metal (typically not alloys). Nonanaerobic thread-lock is typically hybrid cyanoacrylate–based and does not rely
on a metal component. A non-anaerobic product will, therefore, lock both metal and nonmetal fasteners.
Most people are familiar with mechanical thread-lock but have never used a chemical thread-lock. The prime advantage of a chemical product is that it not only locks the fastener in place but also seals the threads, which, in some cases, prevents air and liquid leakage through the parts.
Both anaerobic and non-anaerobic thread-lock is produced in varying viscosity and bonding strengths. Usually identified by color, blue threadlock is most common and allows the parts to be disassembled with basic hand tools. Red thread-lock is typically more permanent and usually requires heat to disassemble the parts. Green thread-lock is typically a non-anaerobic product and has a very thin viscosity, which allows the
chemical to wick into the parts once assembled.
In most cases, you should use blue thread-lock on all of a quadcopter's bolts so that they can easily be replaced. If you forgot to use thread-lock and everything is  assembled, green thread-lock can be a big time-saver with its wicking capabilities because it can seep down inside the threads of the nuts and bolts.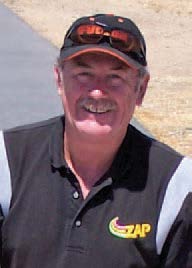 Paul Stenberg
Distributor, Zap