This article will cover the ways I studied for the test and some tricks to successfully
pass any test. The first piece of advice—and this may seem obvious—is that you must know the material. This means you need to understand the material, not just be aware of it. Knowing that there is a difference, for example, between Class B and Class D airspace is not enough; you need to understand the difference between them and
the exact definition of each. My objective was to learn and know the definitions of all the items that might be included on the test.
If you aren't already a licensed pilot or aren't very familiar with airspace regulations, I recommend that you attend a seminar or take an online class that specializes in the unmanned aircraft test. is is the best way to learn everything you need to know for securing your Part 107 license. But when I considered my previous knowledge and my time schedule, I decided to go another route.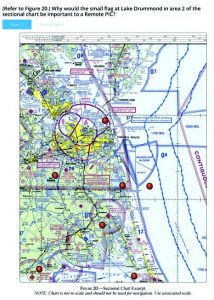 I started by checking out the recommended Federal Aviation Administration (FAA) website (faa.gov/training_ testing/testing), which has two downloadable PDFs in the Remote Pilot Certification section: the Airman Certification Standards for Unmanned Aircraft Systems and the Remote Pilot Study Guide. They are designed for the Part 107 test and have good information, but I found the PDFs to be rather lengthy and  somewhat hard to wade through. There is also more information about flying in general than you need to know to fl y a drone safely in U.S. airspace (and pass the Part 107 exam). The guides cover many subjects about flight in great depth, so if you really like to read, they will teach you everything you could ever want to know on the subject of aviation. Otherwise, pay close attention to the sections on airspace and reading navigational maps.
Other Sources
After perusing the material on the FAA site, I decided to head over to YouTube. Many of the videos were, to say the least, a waste of time, but I did find one by Tony and Chelsea Northrup that featured a  photographer who took the test and passed. They also off er a study guide that has a lot of good  information, and I found it to be a valuable resource. Included in this guide are numbers (minimum and maximum), facts you need to know, weather information, METAR (Meteorological Aerodrome Report) data and weather abbreviations, charts,  controlled airspace defi nitions, links for chart-reading tips, METAR and TAF (Terminal Aerodrome Forecast) acronyms, and decoding video links.
Practice Makes Perfect
After studying all the information I could find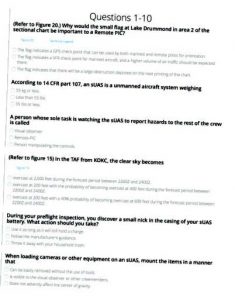 on the FAA site and YouTube videos, I headed
over to a couple of free practice-test sites. One
of the best can be found on the 3D Robotics
website (3dr.com), where you can answer
sample test questions and then see all the
correct answers. Another good one is on the
Rupprecht Law website (jrupprechtlaw.com); it
provides the correct answers along with detailed
explanations. It's a huge help to be able to take
a practice test in advance of the actual test. In
addition, you can take the tests repeatedly to
help boost your confidence.
What Is on the Test?
Before taking my test, these were my main questions: Did I study enough? Did I study
the right items? Should I have memorized everything in the recommended study materials on the FAA website? On my test (and please keep in mind that each test has
different, randomly selected questions), the following were the main subjects that were
covered. First and foremost was airspace, and most of the questions on my test related to this subject. Along with this was the ability to read and understand aeronautical charts. There were a few questions on who is responsible for various things during a drone flight (hint: it will almost always be the Pilot in Command). Finally, some questions were devoted to the decoding of TAF reports and METAR data and weather in general. If you go into the test with a firm understanding of these items, you will most likely pass.
Finding a Test Center
The Part 107 exam, or aeronautical knowledge test, must be taken at an FAA-approved
Knowledge Testing Center. To find one near you, do an online search or contact the providers: CATS (Computer Assisted Testing Service)—800-947-4228; PSI Services—800-211-2754. The centers charge approximately $150 to take the exam. You will need to bring along payment and an acceptable form of identification, such as a driver's license.
Test Day
I arrived at the testing center just about an hour before the test was scheduled to begin so that I could have some time to go over my notes and review some of the study guides. Before I take any test, I like to get my head in the game by looking at words and items that relate to it. This just puts it all fresh in my mind so that when I see the same words on the test, they are easier to recall.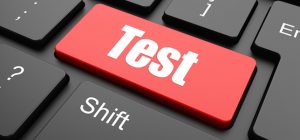 When you sit down at the computer desk to take the test, organize everything (and be sure that you've brought along a simple calculator, which you are allowed to have—there is no reason to miss a question because of a math miscalculation). You have two hours to take the test; you'll have two minutes per question, which is plenty of time, so don't let that bother you. Read each question carefully because some of the questions are written in an unusual way; you may need to read the question two or three times before you understand what it is being asked. Don't rush—be sure to read the whole question. Carefully read the question in its entirety and all the answers before selecting one. Take your time!
If there are questions that you just don't know or understand, the test allows you to mark them so that you can easily come back to them at the end. Do that, and come back to them at the end. This accomplishes two things. First, by going through and answering all the questions you know, you'll gain confidence in your knowledge and reduce any test jitters you may have. Second, after reading additional questions and answers, you may be better able to answer the questions you temporarily skipped. In many cases, one of the three possible answers can be quickly eliminated because it makes no sense. Therefore, if you are unsure about a question, use logic to eliminate one of the answers and give yourself a better chance of answering correctly.
If you have time left at the end of the test, go back over everything just to make sure you did not misread any questions and that you did, in fact, check the answers you meant to check. One bit of advice: If you go back over your test and there is a question where one answer seems to be better than the one you selected but you are not absolutely sure, go with your first choice; it has better odds of being correct. When you have finished double-checking your test, click the "Finish" button and get your test results.
Results
My study method worked well; I scored 92 percent correct and received my remote pilot's license. If you are self-disciplined, you can pass this test by using study materials that are easily accessible online. If, however, you prefer to have a little help with your preparation, there are a number of fine schools that will guide you through it every step of the way. However you go about studying for the test, the Part 107 exam can be passed by anyone who takes time to learn the material, regardless of his or her prior knowledge on the subject. Good luck!
Flight Training
There are many training schools specifically designed to teach you everything you need to know to pass the Part 107 test. Here are just a few:
Academy of Model Aeronautics (AMA)
amaflightschool.org/fly-robotics.com
FAA Part 107 Preparatory Course
Online training
Aircraft Owners and Pilots Association (AOPA)
Frederick, MD
aopa.org
FAA Part 107 Preparatory Course
In-person training
Drone Pilot Ground School
Nashville, TN
dronepilotgroundschool.com
FAA Part 107 Preparatory Course
Online training
Drone University USA
Sacramento, CA
droneuniversityusa.com
FAA Part 107 Preparatory Course
In-person training
Eye in the Sky UAS Training Academy,
Nevada Institute for Autonomous Systems
Las Vegas, NV
nias-uas.com
FAA Part 107 Preparatory Course
In-person training
Indiana State University
Terre Haute, IN
indstate.edu
FAA Part 107 Preparatory Course
In-person training
Kansas State University,
Polytechnic Campus
Salina, KS
polytechnic.k-state.edu
Test prep sUAS Commercial Pilot Training (Part 107)
In-person training
Monroe Community College
Rochester, NY
monroecc.edu
Remote Pilot Ground School and FAA
Test Prep
In-person training
Northwest Michigan College,
Traverse City Campus
Traverse City, MI
nmc.edu
Test prep Remote Pilot Ground School and FAA Test Prep
Online training
UAV Ground School
Atlanta, GA
uavgroundschool.com
FAA Part 107 Preparatory Course
Online training